**Special Note: Members are asked to contact the church if they are in need of a
Service Book and Hymnal; one can be sent or delivered to you.
If you would like your own copy, they can be purchased readily on Amazon.com by clicking here.***

April 5th, 2020
Sixth Sunday in Lent - Palmarum (Palm Sunday)
For A German version of the Service, please click here.




Hymn of the Day - "Ride on, ride on in majesty" (SBH #73)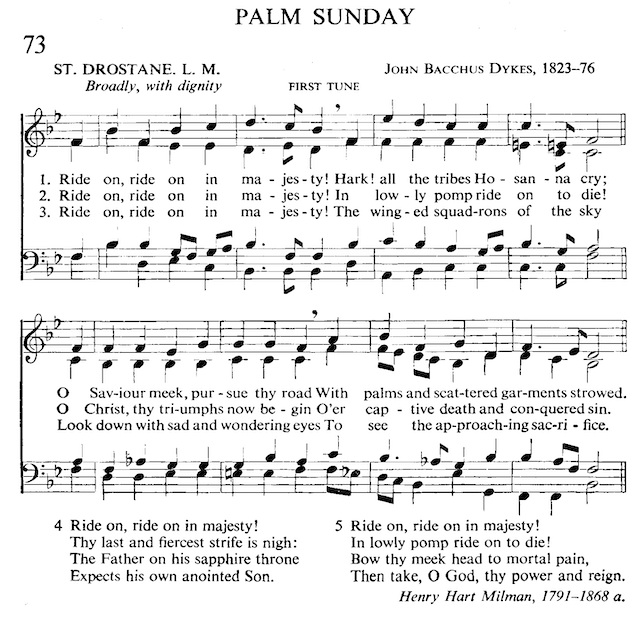 Introit
Be not thou far from me, O Lord: O my Strength, haste thee to help me.
Save me from the lion's mouth: and deliver me from the horns of the unicorns.
Ps: My God, my God, why hast thou forsaken me: why are thou so far from helping me?

Gloria Patri
Glory be to the Father, and to the Son, and to the Holy Ghost;
as it was in the beginning, is now and ever shall be, world without end.
Amen.

Kyrie
In Peace let us pray to the Lord.
℟ Lord, have mercy.
For the peace that is from above, and for the salvation of our souls, let us pray to the Lord.
℟ Lord, have mercy.
For the peace of the whole world, for the well-being of the churches of God, and for the unity of all, let us pray to the Lord.
℟ Lord, have mercy.
For this holy house, and for them that in faith, piety and fear of God offer here their worship and praise, let us pray to the Lord.
℟ Lord, have mercy.
Help, save, pity and defend us, O God, by thy grace.
℟ Amen.

Gloria in Excelsis
Glory be to God on high! And on earth peace, good-will toward men. We praise thee, we bless thee, we worship thee, we glorify thee, we give thanks to thee for thy great glory, O Lord God, heavenly King, God the Father Almighty. O Lord, the only begotten son, Jesus Christ; O Lord God, Lamb of God, Son of the Father, that takest away the sin of the world, have mercy upon us. Thou that takest away the sin of the world, receive our prayer. Thou that sittest at the right hand of God the Father, have mercy upon us. For thou only art holy; thou only art the Lord; thou only, O Christ, with the Holy Ghost, art most high in the glory of God the Father. Amen.

The Collect
Almighty and everlasting God, who hast sent thy Son, our Saviour Jesus Christ, to take upon him our flesh, and to suffer death upon the Cross, that all mankind should follow the example of his great humility: Mercifully grant that we may both follow the example of his patience, and also be made partakers of his Resurrection; through thy Son, Jesus Christ our Lord, who liveth and reigneth with thee and the Holy Ghost, one God, world without end. Amen.

Old Testament Reading (First Reading)
Zechariah 9:9-12

The Epistle (Second Reading)
Philippians 2:5-11

The Gospel (Third Reading)
Matthew 21:1-9

The Apostles Creed
I believe in God the Father Almighty,
Maker of heaven and earth:

And in Jesus Christ his only Son our Lord,
Who was conceived by the Holy Ghost,
Born of the Virgin Mary,
Suffered under Pontius Pilate,
Was crucified, dead, and buried:
He descended into hell;
The third day he rose again from the dead;
He ascended into heaven,
And sitteth on the right hand of God the Father Almighty;
From thence he shall come to judge the quick and the dead.

I believe in the Holy Ghost;
the holy Christian Church,
the Communion of Saints;
the Forgiveness of Sins;
the Resurrection of the body,
And the Life everlasting. Amen.

Sermon - "The entrance of the Servant/King" (Matthew 21:1-9)
Please click here to read today's Sermon.

Prayer for Palm Sunday
Almighty and merciful God, we thank You for the temporal and spiritual blessings which You have once again bestowed on us in the past week, and we offer our thanks and praise especially for the gift of Your Son, Christ Jesus, born of the Holy Virgin to be our Redeemer and Lord, who was delivered for our offences and was raised again for our justification, who now sits at Your right hand of power, whose glorious return we yet await. On this Palm Sunday, as we prepare to meditate on the sufferings of Your Son born of Mary, we ask that You send us Your Holy Spirit in full measure, that we may greet our King properly—in faith and in love and in the heartfelt desire that He should rule in our hearts. O God the Father in heaven, have mercy on us!

Lord Jesus Christ, Lord of the Church and Shepherd of our souls, we entreat You to protect Your people of faith everywhere from all harm and danger, and to guard and keep us and all believers from all error and false doctrine that might rob us of Your grace. Look in mercy, we pray, on all those who are persecuted for Your name's sake; rescue them from Satan's rage, keep them firm in their trust in You, and according to Your good will deliver them from their enemies. Bless the holy Ministry which You have ordained for Your Church, provide to Your people faithful pastors and teachers who will proclaim Your Word and administer Your sacraments as You have commanded, and through the proclamation of Your Gospel, dear Lord and Savior, open the door of faith to all, remembering in Your mercy also the enemies of Your Church and granting them repentance unto life. O incarnate Son of God, our risen and victorious Lord, have mercy on us!

Holy Spirit, who eternally proceeds from the Father and the Son, so work in our hearts through Word and sacrament that we may put all our trust and hope in our Savior Christ Jesus, and fill us, we pray, with true love for each other and fervent zeal for the work of His Church. Bless also the word which is preached in our country by our Evangelical Lutheran Conference and Ministerium and which is proclaimed in Kenya, in Myanmar, and in India by our sister-churches, that those who hear may come to know in faith Christ Jesus and His saving love. O God the Holy Spirit, Lord and Giver of Life and our true Comforter, have mercy on us.

Almighty and merciful triune God, we ask Your blessing on all the peoples of the world, that You would bring all wars and violent confron-tations to an end, and give to us and to all people a just and lasting peace. Guide our elected officials in city, state, and nation, that they may govern with wisdom and justice and for the benefit of all. We ask Your mercy for all those in our military who sacrifice so much for our security and safety, and we specially ask Your blessing for those who serve in foreign lands, that You would keep them strong in faith and bring them safely home to their loved ones. Send us Your Holy Spirit to keep us faithful and diligent in prayer for them.

Once again, dear Lord, we ask for Your help and Your protection—for ourselves, for our city, for our nation, and for all the people of the world—against the coronavirus which is so rapidly spreading. Be with all those who, at risk to themselves, are working to protect us against this illness—the first responders, the doctors, the nurses, and all the hospital aides. Provide healing and recovery, we pray, to those who have contracted this sickness. Comfort all those with the Gospel of Christ who have lost loved ones because of it, and give us wisdom and fill our hearts with love so that we may be of service to others during this time of danger and uncertainty.

We ask Your merciful care, dear Lord, for all in need: for the hungry and the homeless, for those who seek employment, for the many who have lost their jobs and who are uncertain about the future, for all who are sick or disabled, for all who have endured fire or flood or earthquake or drought, for all who are oppressed, for the weak and vulnerable, for all children, including those who are not yet born—that You would supply to all of these the daily bread which You know to be best for them, and help us to be channels of Your love to all around us.

Heavenly Father, compassionate Lord, we ask Your blessing for all in our congregation who for health-reasons specially need Your merciful care. Keep firm their faith in Christ, and grant to them such strengthening and healing as You in Your love and infinite wisdom know to be best. All this we pray in the name of Christ Jesus, Your Son and our Lord, who lives and reigns with You and the Holy Spirit, one eternal and triune God. Amen.

A Special Prayer in this Time of the Coronavirus

Heavenly Father, we come to You in earnest prayer in this time when the coronavirus is still spreading so rapidly in the world, in our own beloved nation, and now also in this Philadelphia area. With thankful hearts, we cling to Your promise that nothing can separate us from the love of Christ, and that You will make all things work together for good for Your people of faith. Today we ask, Father, that out of Your boundless mercy You would bring to an end the threat which this disease poses to us and to all people. Protect all those who must risk their own health as they tend to the sick—first responders, nurses, doctors, hospital aids, and all those who are exposed to the virus in the course of their service to others. Grant healing and recovery, we pray, to all who now suffer from this illness. To all who have lost loved ones in this pandemic, we ask that You would provide the comfort of the Gospel of our risen Lord and Savior, Christ Jesus. Send us Your Holy Spirit, we pray, to keep us diligent in prayer for our families, for our congregation, for our nation, and for all people. And both now and in the days ahead, grant to us true wisdom, we pray, and fill our hearts with the love of Christ, so that in every way we may act diligently and responsibly for the good of our neighbors. Hear our earnest prayer, heavenly Father, for the sake of Christ Jesus, Your Son and our Lord. Amen

The Lord's Prayer
Our Father, who art in heaven,
Hallowed be thy Name,
Thy kingdom come,
Thy will be done,
on earth as it is in heaven.

Give us this day our daily bread;
And forgive us our trespasses,
as we forgive those who trespass against us;
And lead us not into temptation,
But deliver us from evil.

For thine is the kingdom, and the power, and the glory, for ever and ever. Amen.

**Please remember to send in your weekly contribution or donation to Old Zion. You can use our new online portal by clicking on the Donate button on our homepage, or you can mail in your contribution.**

PREVIOUS SERVICES:
March 22nd, 2020 (Laetare) - https://www.youtube.com/watch?v=wqIKqS5x25c&t=606s
March 29th, 2020 (Judica) - https://youtu.be/7jE-D102jtA